Thursday, January 26, 2006
The guys at "Encounter 2001" (Press Release from 1999) made a bunch of anticryptographic images containing a primer, information about how to identify our sun in a crowd, the basic environmental niche that we occupy on our planet, us being creatures based on DNA, etc and then sent it to the stars.




There is a contingent who think this is crazy, that it invites agressive (or raw materials depleted) alien civilizations to swing on by and take over. While this isn't the most popular view, we still can't disprove an unbound negative. (e.g. "prove that pink unicorns don't exist somewhere in the universe") It could potentially happen.

Anyway, I was thinking, how could you avoid this problem while still inviting the friendlies to get involved with us? I think the answer is simple: Do not give information about our world, but provide information on the other planets in our solar system that are utterly hostile to survival to us. For instance, nobody here could live on Venus (blistering hot acid winds) or Jovian worlds (gaseous with tremendous pressures). What we do is describe all these other worlds in some sufficient detail, just like Earth was described (but maybe shouldn't have), and invite them to move in! (to the other ecosystems)

As long as there is no overlap in habitat or resources, then war based on resource conflict or outcompetition with our species is unlikely. We would benefit from knowing another intelligent, sentient species. We could trade knowledge with them. We could trade resources from them that we would not otherwise get. (Actually, on second thought, we don't want to have much overlap in our resource consumption. Nix this one) We could trade art with them. We could trade stories. We could trade philosophies.

If we were viewed favourably, they may even invite us to habitate on a planet they know elsewhere that doesn't overlap with their ecosystem/niche. E.g. An Earthlike planet. Now wouldn't that just be dandy. Let's have our cake and eat it, too!

Burton MacKenzie
http://www.burtonmackenzie.com
Wednesday, January 18, 2006
After a heavy snow, I shoveled a different sidewalk than normal. The next morning, my wife told me that I had shoveled it right through her perennial garden. Oops! (It really is hard to tell what's under the snow sometimes, since I don't shovel all the way down) Many mail and flyer carriers ignored most of where I had shoveled and cut through the unshoveled snow anyway. I shoveled the regular walk, piling the snow from it as new snowbanks at the entrances to the perennial garden path. I even gritted the entire newly shoveled walk! ....But then they started actually walking across the snowbanks where I had piled the snow. Is there any design of sidewalk I can shovel without them still walking through the snow (ostensibly killing my wife's plants)?

After this snow, I decided to try to make my signals clearer.


Do you think they'll get what I mean by that? Which path would you take? There is some literalness to the symbol, as after some melt the path through my wife's garden became uneven - perfect for twisting an ankle. Don't Walk Here!

The first one I tried didn't turn out so well (I couldn't get as close).


It's on the main public side of the yard, where I've never shoveled a sidewalk but I have piled some snow...which people still walk through.

And this one was just left as an excercise for the people walking down the sidewalk.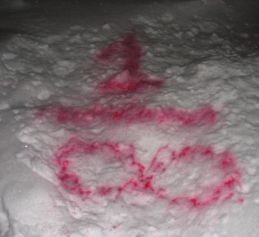 Burton MacKenzie
http://www.burtonmackenzie.com
Wednesday, January 11, 2006
When I called this one in, I was having such trouble with the audio blogging that by the time I got connected and recording, I had forgotten that which I was about to blog. Maybe something along the lines of pulsed gaussians and sonar in the garage, combining sonar surface features with visual recordings (webcams) to make a 3D movie of somebody stealing your shit, doing Fourier transforms in op amps, ....I dunno. Something like that.